Yesterday's announcement by the Australian Government regarding changes to deeming rates will put money back into the pockets of Senior Australians receiving the Age Pension.
What are deeming rates and how does it impact your Pension?
Deeming is Centrelink's standardised way of calculating the income (or return) Pensioners earn on their financial assets, regardless of the actual return. Deemed income is then added together with any other income and is applied as the Income Test.
Deeming rates apply to the following financial assets:
Cash in the bank – savings, term deposit and transactional accounts

Superannuation savings – accumulation and income stream accounts

Shares

Managed investments and debentures

Some gifts and loans
Up until yesterday deeming rates hadn't changed in the last 4 years. The Government has been under increased pressure to reduce rates due to declining cash and interest rates.
From 14 July deeming rates will now be reduced from 1.75% to 1% on financial assets up to $51,800 (for singles) or $86,200 (for couples) and 3%, down from 3.25%, on financial assets over these thresholds.
The Families and Social Services Minister Anne Ruston announced yesterday 'this means couples whose income is assessed using the deeming will receive up to $1,053 extra a year, while singles could pocket up to $804 extra a year.'
Here's an example of how deeming is calculated on financial assets for couples and singles: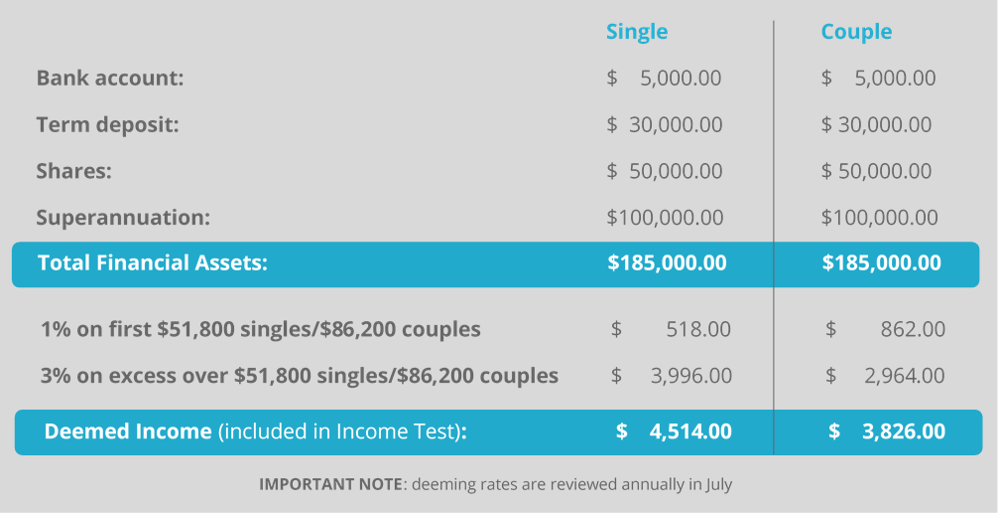 When do the deeming rate changes come into effect?
Senior Australians receiving the Age Pension will see the extra money come into their bank accounts from the end of September and the payment will be backdated to July 1.
We have now updated our Age Pension Calculator with the new deeming rates, click here to give it a try to see exactly what this change will mean for you.
We always love to hear from our customers about how changes to the Age Pension affect their retirement lifestyle. Share your thoughts in the comments section below.