Benefits of the Commonwealth Seniors Health Card
See if you are eligible now.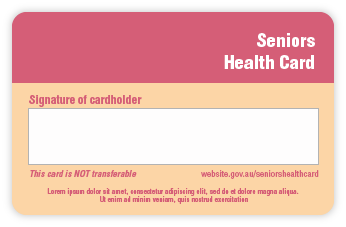 The Commonwealth Seniors Health Card provides many benefits not least of which is peace of mind.  Age Pension recipients get all these benefits and more, so if at some point in the future you become eligible for the Age Pension you'll just be getting more of what you've worked hard and paid taxes for..
The top six benefits of the Commonwealth Seniors Health Card (CSHC) include:
Cheaper Prescription Medicine and other benefits under the Pharmaceutical Benefits Scheme
Bigger refunds on medical costs when you reach the Medicare Safety Net
Free or lower rates on other healthcare expenses. This can include ambulance, eye checkups, hearing and dental care
Discounts in some states on water and property rates. For example in WA, CSHC holders may be entitled to receive up to 50% rebate on water service charges.
Discounts on electricity and gas bills. Card holders can often apply for Seniors Energy Rebates in different states to help cover electricity costs and gas costs.  Check your state guides.
Discounts on transport and recreational activities. Card holders are often eligible to receive metropolitan and regional travel discounts.  Recreational centres, parks, and movie theatres all over Australia offer discounts to Commonwealth Seniors Health Card holders.
To get a deeper understanding of the benefits, take a look at the experience of Sue and Robert.
Well worth the effort!
It is conservatively estimated that the Commonwealth Seniors Health Card discounts might add up to $2000-3000 per year!