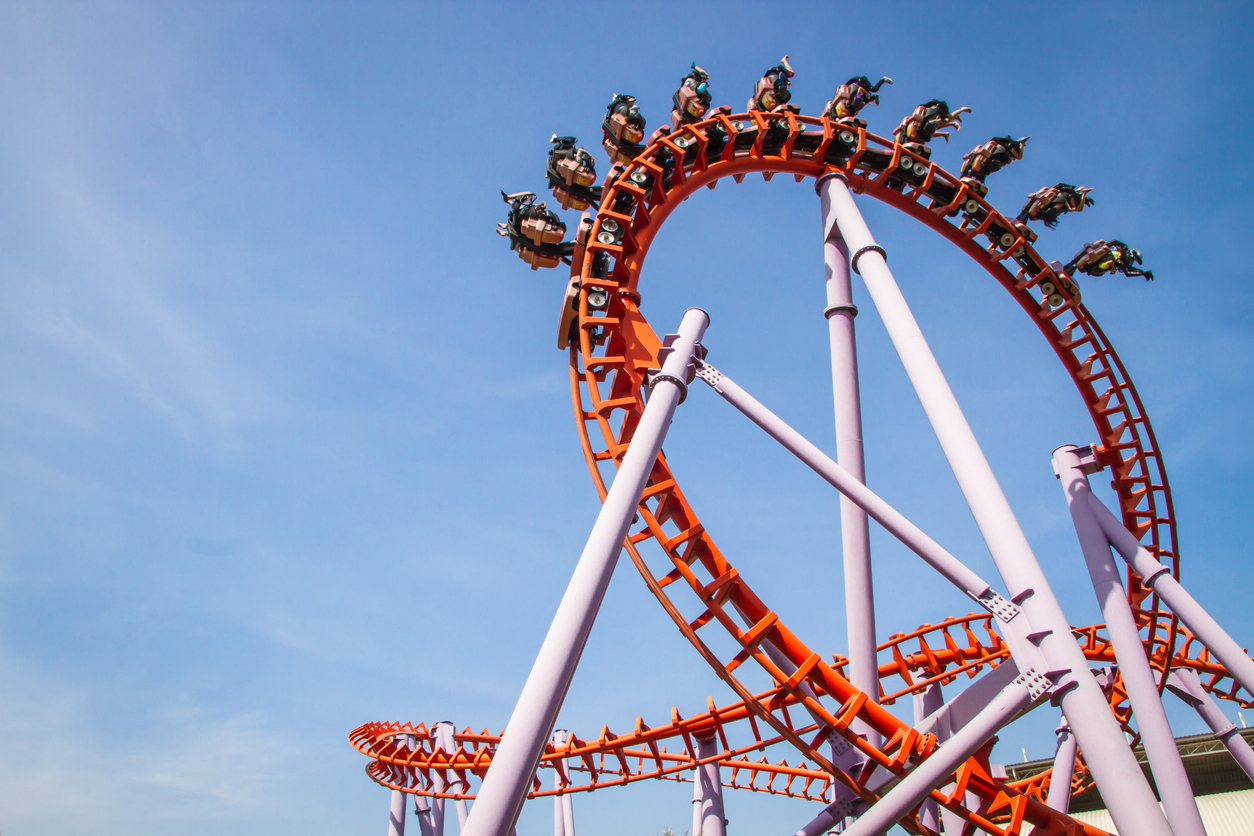 Sliding assets and rising rates deliver a bonus
You've seen the headlines.  Share markets around the world and here in Australia have been taking a tumble.  In mid-June, the US share market is down just over 20% since the beginning of calendar year 2022.  The Australian share market is down just over 10%.
Unexpected increases in consumer prices and central bank moves to raise interest rates, along with the impact of the war in Ukraine, have unsettled markets and they've fallen sharply after a very good year in 2021.  Many super funds are expected to have negative returns for the full 2022 financial year which ends on June 30.
But it's not all bad news for older Australians on the Age Pension.  There are built-in features of the Age Pension that create some upside. And market changes can make a positive difference for savers.  Here's some important things to know:
The Age Pension comes with inflation protection.
As you know, the Age Pension adjusts for inflation twice per year, which is a wonderful feature in times like these when prices are rising sharply.   The next increase is due on September 20th.  Retirement Essentials will keep you informed.
For part-pensioners, the Age Pension should increase if assets go down because of share market declines.
The Age Pension's means-testing results in an increase in the pension for part pensioners if your assets decline.  Specifically, for those on a part pension, the Age Pension increases by $78 per year ($3 per fortnight) for every $1000 decline in assets.
Here's a simple example of a couple with $500,000 in assets prior to a market decline.  Let's say they were in a balanced investment option that goes down a hypothetical 8% with the market decline: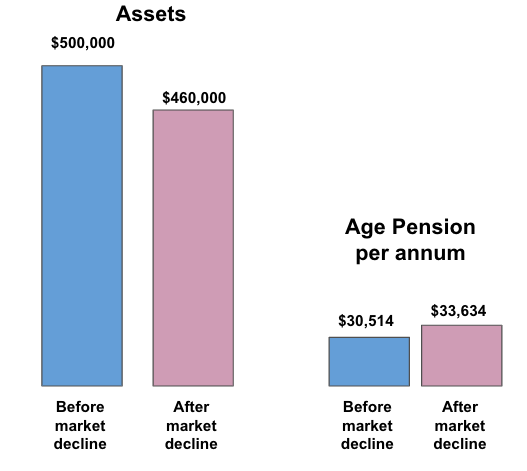 Yes, the couple's assets go down by $40,000 in a "paper" loss, which may be earned back later.
But their Age Pension entitlement goes up by $3,120 per year or by almost 10%.   That buffers the impact of the paper loss.
If the couple was withdrawing 5% per year from their investment, they'd find their income actually increased as the $3,120 in extra Age Pension income more than offsets the decline of $2,000 (5% of $40,000) in their withdrawal program.
How do you activate this extra income?
Remember that Centrelink won't know about all your asset losses unless you advise them. Centrelink updates certain assets such as super balances twice a year, but if your assets have declined substantially you might not want to wait as you could be missing out on additional pension payments.  You can update your assets in your MyGov account or if you subscribe to our Keeping Your Pension service we can do that for you.
Higher interest rates are beneficial to many Age Pensioners.
The higher expected interest rates that are pressuring share market investors can be a boon to many of our Age Pension clients, a lot of whom hold a significant portion of their assets in deposits.  Older Australians with cash have been suffering for years due to the Reserve Bank's efforts to hold down cash rates – and deposit rates have been close to zero.
To maximise your benefit from increased rates, you might have to shop around a bit.  It's likely that the major banks – in their efforts to make profits– will be quick to raise mortgage rates but slow to raise deposit rates.  You can find banks (often the smaller ones), that move more quickly.  Also, there are other safe savings options to consider.  Australian Government bonds are now yielding 3.2% over two years and 4.1% over 10 years.  And two year term annuity rates are available in the 3.8% range.
Will you qualify for the Age Pension for the first time?
For some older Australians with assets just above the Age Pension thresholds, the decline in asset values may push them below the thresholds. The higher thresholds make this even more likely.  This means that they may become eligible for the Age Pension for the first time.  It pays to check your eligibility and not miss out.  Our Age Pension Eligibility Calculator can help you see if you finally qualify.
Markets have certainly been challenging for investors and may continue to be while inflation and world tensions are high.  But as we have discussed here there are some silver linings.  You can also book a consultation with one of our expert advisers if you want to get a better understanding of how the current ups and downs in the market are affecting your retirement income – and the steps you can now take to maximise your retirement income.