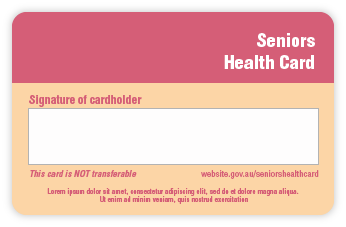 Concession Cards are the icing on the cake when it comes to retirement income. The rate of a full Age Pension has been measured as subsistence level, not much more, according to the Australian Council of Social Services (ACOSS). Many part Age Pensioners also find that they can cover household expenses, but live a far from lavish lifestyle based upon their pension incomes, including supplements (explained last week). Similarly there are many self-funded retirees, who, unlike common media portrayals, are not greedy baby boomers spending the kids' inheritance. On the contrary, they watch every dollar.
This is why concession cards can make a very real difference.
The cards offer a broad range of discounts, generally covering medical and pharmaceutical concessions, utility discounts, car registration and public transport discounts and sometimes lower council rates.
The following table explains the cards currently issued by the federal government (through Services Australia or the Department of Veterans Affairs)  for those on a full or part Age Pension, for self-funded retirees (who meet the criteria), as well as the Seniors card programs which are offered by every state and territory to any senior, regardless of their financial situation.
CARD
WHO IS ELIGIBLE?
BENEFITS
HOW TO APPLY
Pensioner Concession Card
If you are eligible for an Age Pension payment then you are eligible for a Pensioner Concession Card

National

Reduced-cost medicines
Higher Medicare Safety Net threshold
Access to bulk billed GP appointments
National Diabetes Services
Hearing Services

State

Property rates and water charges
Electricity and other energy bills
Fares on public transport
Motor vehicle registration fees and drivers' licences
Admission or ticket prices to various entertainment or sporting venues

Automatically issued with when your application for the Age Pension is approved.  You can apply for your Age Pension here
Commonwealth Seniors Health Card
If you are of Age Pension age but do not qualify for the Age Pension, you might be eligible for a Commonwealth Seniors Health Card if your income is below the current thresholds.
Discounts on prescription medicines

May also qualify for additional health, household, transport, education and recreation concessions that may be offered by state or territory and local governments and private providers.

You can make a seniors health card application with Retirement Essentials or via Centrelink or MyGov
Seniors Card
Seniors Cards are issued by state and territory governments and are available to those aged 60 years and over, who no longer work full-time and are permanent residents. However, eligibility varies depending on the state or territory in which you reside.
The main benefit is that Seniors Card holders are entitled to travel concessions in their home state and territory, as well as interstate. Concessions vary depending on the state or territory in which you reside.

As an example, NSW Seniors are entitled to:

The Gold Opal Card
Transport concessions Australia-wide
Discounts and deals at over 5,700 businesses state-wide – from
shops to tradies to travel to financial and professional services
Reciprocal rights in other states – just show your card and ask
Special offers, competitions and more – from our generous Seniors
Card business partners

Apply online, by phone or in person at a service centre

To apply online for your local Seniors Card go to:

            

NSW:Click here NSW Seniors Card

VIC:Click here Vic Seniors Card

ACT:   Click here ACT Seniors Card

WA:  Click here WA Seniors Card

QLD:Click here  QLD Seniors Card

TAS:Click here  TAS Seniors Card

SA: Click here SA Seniors Card
How do you apply?
There is no need to apply for a Pensioner Concession Card, it will be automatically awarded to you when you qualify for a full or part Age Pension. If you would like support with an Age Pension application, a consultation with our customer service team can speed up the process.
The Commonwealth Seniors Health Card involves a lengthy application, with eligibility dependent upon income thresholds.
Interestingly, there are far fewer card holders than people who are eligible. So it is fair to assume that the potential card holders either do not know about the cards, or the application process is seen as too hard.
It is complicated and that is why Retirement Essentials offers support to help you lodge an application quickly and easily.
How much are concession cards actually worth?
This can vary from household to household.
Conservatively, depending upon the extent of medical, pharmaceutical and utility bills, a Pension Concession Card could allow the holder around $2-3000 worth of health discounts, with a possible $2000-$3000 across other benefits.
A total annual Commonwealth Seniors Health Card discount might also add up to $2000-3000 covering Medicare safety net and pharmaceutical benefits, and (up to) an additional $3000, depending upon rates, utility and transport costs.
You can check of you are eligible to receive either of these cards by using our free eligibility calculator.